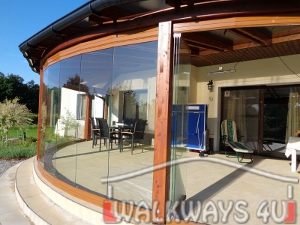 Winter gardens (which were use to called orchards as well) have been well known in Europe for ages but recently they?ve became really popular and trendy. The main reason is their attractiveness and increasing availability. Below are presented 5 most useful tips which concern building our own winter garden.
1. Plan
Every winter garden needs to be constructed according to professional project. In case it?s not built simultaneously with a new house, you can simply order the project by the contractor.
2. Founds
Winter gardens are usually built on concrete founds with reinforcements. It is important that founds of construction need to be separated from house?s with Styrofoam. You should also remember that the bottom layer has to be isolated from the ground wetness.
3. Material
The most universal and recommended material for construction of winter gardens is undoubtedly wood. It makes the room space warm and cozy. From technical point of view wood is a perfect warm isolator. Moreover, wooden framework gives you guarantee of it?s toughness.The best is laminated wood because of it?s warp-resistance.?Another advantage of wooden frameworks is that they can be tailored perfectly to the general house and garden design. Dependently, if you prefer retro or modern style, our specialists can create a project of winter garden suitable to your taste.
4. Floor and heating
The best idea for the floor inside are ceramic tiles. They are long-standing, universal and also easy in cleaning and exploitation. This is important particularly in case you plan to raise the flowers inside the winter garden. Good solution to make the premises warm and comfortable is to install the floor-heating inside.
5. Usability
New construction is not only additional space in your house but also a place with special properties and atmosphere (thanks to it?s location in the middle of the garden, construction and glass walls). You can use this place in many different ways: as an artistic workroom, professional cabinet, all-year dining room or sitting room full of comfortable sofas and seats etc. In every single way, it will be a special place ensuring you relax and good mood.?Regardless what style, aims and shape of winter garden are preferred, first thing you should consider carefully is it?s location, reflecting insulation of the garden. Choosing a place with optimal insulation, the most important profit is high energy-efficiency of your tailor-made place.