Wood is both our business and our passion, giving us the endless drive to innovate and the limitless dedication to deliver the very best in both product and service.
Sustainable business
Having an experienced team on board is vital to us, we know that to produce the very best we need people that care. Our dedication extends beyond product and service, we believe that our recipe for success is based upon reciprocal commitment to motivation and dedication within the team and to our customers. Results speak volumes and feedback so far confirms that this works.
Ecology
We have always been keenly focused on environmental awareness and always ensure sustainability of timber and best ecological production and transport practices. We make sure that what we do doesn't adversely affect the environment, committing ourselves to produce products that conform to Forest Stewardship Council regulations (FSC), the international network set up to promote responsible management of the world's forests.
Tailored solutions
There is no limit to what you can ask for. We take even the roughest of ideas from you and create any combination of practical solutions and attractive architectural structures.
No project is too large or too small and almost anything is possible. We can advise on a variety of types of build and our team of professionals is on hand throughout to guide on weather resistance, durability, safety issues and functionality.
Using our specialist team of construction engineers and dedicated project manager you are guaranteed a quick, efficient and well crafted installation that fully complies with building regulations.
WALKWAYS4U® is a registered trademark in European Community
The trademark WALKWAYS4U® has been registered since 17 May 2010 in the Register of Community Trade Marks.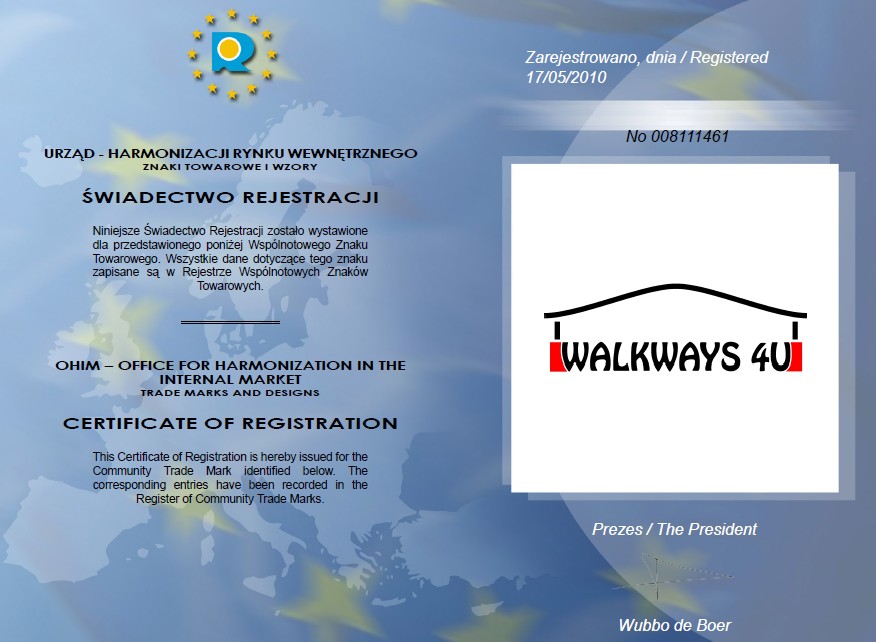 Click on the picture above to see the certificate.